Before I get to the juicy tidbits (small or large we will get to), I wanted to warn everyone of something… you will be reading a lot more of me this month!
For the month of May, I will be writing a blog a day in an effort to raise money for Cancer. As many of you know I lost my Mama to lung cancer in July of 2021. The gift and curse of watching someone wither away in spirit and body is one that I do not wish on anyone. This is a small way in which I can connect something I love to help others have a better journey. Whether you donate money, time, or just a kind gesture of help to those around you, I will consider this challenge a success.
Now on to my my dating life…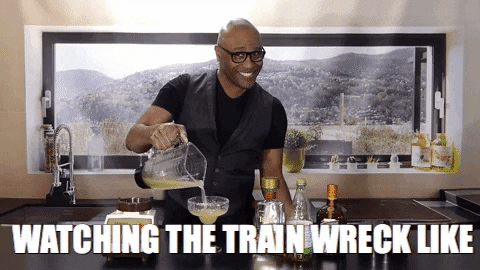 I matched with Neil* on the Hinge dating app. It was shortly after I found out Dylan had a new girlfriend and I wanted to encourage myself to move on. Word to the wise, sheer brute force on your soul is not an effective means to heal. Although, I still learn this lesson. Ugh!
Neil had a good looking selfie that he took on a hike at one of my favorite places to go and at the best stretch of it. The pictures and prompt answers on the rest of his profile were a good mixture of humor, adventure and family values. Side note, he also had a really cute dog in one of the pictures. I swear sometimes I'd meet up with a complete stranger just to meet a new dog I love.
P.S. I try to avoid white vans for that reason… "Oh, there is a puppy in there! Let me see"
In our chats, he was friendly and direct and not overly chatty but consistent. By the time that he asked me on a date I knew he was an involved Dad, former dog owner (false advertising should be my red flag- also would likely be the result in my van scenario above) and had a stable job at the Air Force Base. He looked good on paper, not a lot of chemistry, but I would rather meet someone sooner than get to know them through text for days.
The night before our date, I got cold feet. I messaged him that I wanted to cancel because I was not sure that I was really ready to get out there yet. My brute force self wasn't working on my heart. I told him I'd be more than happy to meet up to just get to know him but it would likely result in friends since I wasn't ready for anything else. He was understanding and said that he also wasn't sure what he was looking for but he really enjoyed my profile and would like to meet up as friends. We decided to do lunch the next day at Panera. As one of my good friends says, "a fancy hospital food place."
The next day I pulled into the parking lot with music on and windows down, it was a beautiful day and I was in a great mood. I could see Neil waiting at the front door, he looked a lot better than his pics. He smiled brightly and I could see that he was happy to see me as well. He made a joke about how he was debating how to stand at the door without looking like a creeper to others but "look cool" for me. I love it when someone makes jokes during awkward situations! I am someone who is consistently awkward and funny, so that first impression was a good one.
We both ordered our food and paid individually. This was a lunch hang out and not a date I reminded myself. During the lunch, I laughed throughout the entire thing. I found out he used to be a part of a comedy sketch group and even had his group on a 90's talk show! We laughed so hard explaining some of his skits and mine with improv, we both lost breath. He talked with passion about his family, sons and his job. I checked my phone and realized it had already been 2 hours. This is unheard of, specifically with no alcohol.
He asked me if I wanted to go grab a drink and continue the conversation. I agreed and we both drove to the next location. This time he paid for my tall beers and it was like we never stopped. We ended up agreeing on politics (which is always a risky conversation) and he was even farther on the spectrum than I was and very strong and detailed views. I was thoroughly impressed.
At the end of our date, we walked back to my car, and after a few minutes he leaned in for a kiss. It was a small peck but was cute and I said "Whoa! I thought that this wasn't a date…" He smiled and said "it wasn't supposed to be but I think it is now."
I agreed.
Here is a hint for tomorrow to one of the MANY unexpected surprises on the second and final date… Look for that update tomorrow!